Feline catty? Kitty prints have been around for awhile with naturally some patterns being better than others. Here are my two favourites of the moment:
Rip N Dip's Nermal Button Down
If you're a cat lover than cat prints are great, especially this one. I love how the pattern is continuous making for a very bold statement. If I was to wear this I'd team it with some very minimal items such as a white scoop necked, long sleeved pullover or a fitted blazer. The last thing you want to do is clash two very busy patterns! I am an absolute sucker for button down shirts, shirts in general as one of my main looks lends itself to the dapper/twee category. But you could also put an urban spin on this shirt by sporting a five panel or a snapback. Its 100% Cotton and has an reinforced collar, keeping it nice and twee. The shirt currently retails at $70.00 from
RIPNDIP
.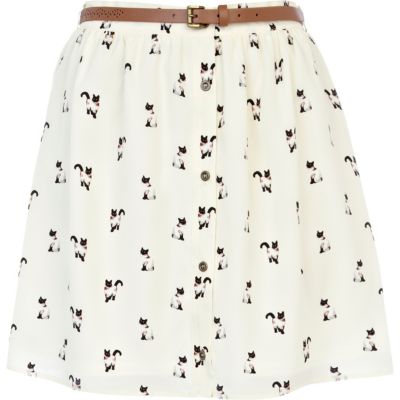 Cream Car Print Skirt @ River Island.


Close Up Of Print
Yesterday, I took one of my younger sisters into town to spend her birthday vouchers and money on some new clothing. Whilst we were out and about I spotted this lovely skirt print in River Island. I immediately fell in love with the skirt as the cats in the design resembled my own, the skinny tan belt is also a plus. I have a small collection of print skirts and from experience I've learnt not to be too enthusiastic when picking out garments to go with them, maybe I'm being a bit shy? However again I'd keep the accompanying items minimal but create a folky, vintage look around the skirt. With a cream long sleeved top, a sheepskin gillet perhaps and black tights with brogues. This skirt currently retails at £25.00 at
River Island
Ooh and just as closer- here's one of my beloved cats!
"Why are all these humans stealing my style- purrrrlease"
What do you think of cat prints? Meow or plain no? Let me know your thoughts!